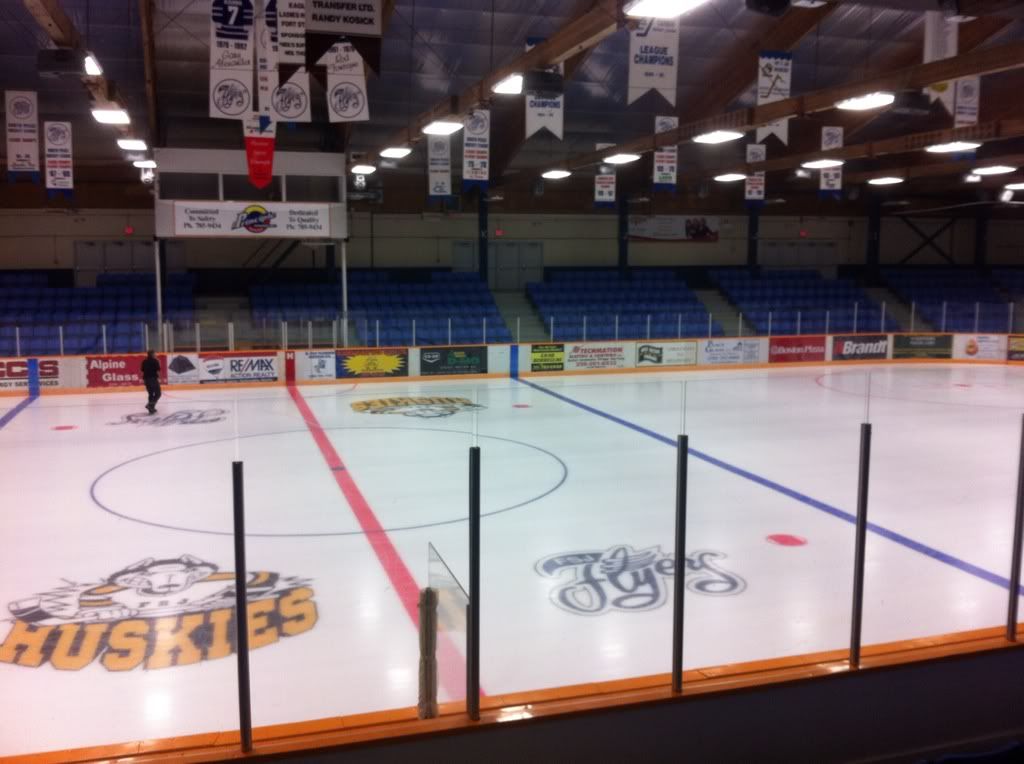 Hey everyone, welcome to the new digs! I'm Dustin Scafe, and I am more than happy to say that I will be bringing Junior and Senior Hockey to you live all season on 100.1 Moose FM! I'll give a brief introduction for myself, but this blog is the home of Huskies, so I will promptly get to the good stuff!
Well firstly, I hail from Vernon, BC and called play by play last season for the Sicamous Eagles of the KIJHL. Before that, I was a forward with the North Okanagan Knights of that very league, for a short time, before realizing my Hockey career had come to an end(on the ice, that is). In July of this year, I moved from Vernon to Leduc, Alberta to work for the summer months. Moving here was easy as I spent my highschool years in that very town. I worked with a company called Sureway Construction; and if you want a job in the capital region doing Earthworks, they get a big thumbs up from me. Then, throughout August, my interest started growing in the broadcast industry after growing up loving radio and dreaming of one day following Jim Hughson to the NHL. I landed a few interviews with some pretty high quality programs, and until last Friday, my future as a broadcaster was in limbo. But then, I was saved. This incredible group decided to give me an opportunity to become the PxP guy for the Huskies and Flyers, as well as become the Manager of Production at 100.1 Moose FM. Now here I am, sitting in my bedroom enjoying the crisp air of the north, loving life and every second of it. Whaddya say we talk some Hockey already?!?
Today I had a chance to head to the North Peace Arena and check out the place! WOW! Here I drive up to a building that could really use a paint job(I think the whole town needs a can or 2 of paint), and was rather curious what I was going to walk in to. Then I stepped through the doors, and my jaw dropped! What an awesome facility, the people of Fort St. John are blessed to have an aged facility be in such pristine condition. I also had the chance to check out the Enerplex, and that place was a definite eye-catcher; although I am very curious as to who the architect was. It is extremely beautiful, however I talked to a few people around the arena who had the same view as myself, how big are the monthly bills to keep the buildings temperature regulated?
Now to the team we're looking at! I arrived just as the boys were heading off the ice, but with 9 returnee's from last seasons 14-21-0-0 roster, it seems there's a bit of work to be done. I had a good chat with the coaching staff and office staff, and they stated that the team has come a long ways since camp opened up earlier this week. That means the boys fitness levels must be returning to game shape! Robbie Sidhu and Cody Hildebrand lead the pack, as both players will play dominant roles this season after posting 41 and 30 points respectively. Both goaltenders are going to be returning this season, as Ty Gullickson and Travis Mclean look to improve on their below-par seasons in 2010. I will get to a bit more information as time goes on, most likely tomorrow evening.
The NWJHL has had a few changes over the off-season, notably by giving the Slave Lake Wolves a leave of absense due to some hardships they were unable to solve. Another big change was the switching of names for the Grande Prairie Wheelers, as they were earlier in the year, sold to a local family. The Wheelers will now be known as the Grande Prairie JDA Hotshot Oilfield Hauling KINGS. Since 2008, the team had been run by GPMHA.
Thanks all for now! I look forward to bringing you guys all sorts of goodies this season! I can be reached in the following ways:
Twitter: dustinscafe
Email: scafe18@me.com
Facebook: Dustin Scafe